Happy Fourth of July Weekend BOMBSHELLS!
Madeline: Maybe It's just me, but it seems as though summer time brings out the fashionista (or lack thereof) in just about everybody….The weather is warmer, so naturally we all shed a few layers and consequently force ourselves into the open…Mini Dresses, Bikinis, shorts, crop tops, you name it and you'll find someone on State street sporting it. Tourist season is in full swing in Santa Barbara this time of year, no shortage of fashion entertainment here… The Cargo Dad Shorts, velcro sandals with socks, fake sun-bleached Abercrombie baseball hats, the waaaaayyyy to short skirts and unsightly white legs, small children wearing leashes….All daily sightings on Cabrillo blvd.  Not only do these fashion offenders scream tourist, they also scream UNCOMFORTABLE. Shouldn't Summer be the time for embracing comfort, nature, and effortless BOHO glamour?!?! Obviously.
This Summer My number one goal is COMFORT, and… as always… TONS of light layers in case my mood changes mid day….which it will. Here are my Summer MUST HAVES.
1. MAXI-DRESS /MAXI-SKIRT
Chan Luu "Mermaid Skirt" Black Mesh Maxi Skirt
Chan Luu White Mesh Maxi Skirt
Chan Luu Tie Dye Maxi Skirt (Spring 2012)
Free People Long Polka Dot Dress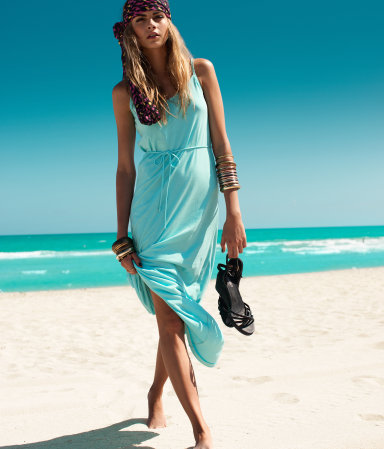 H&M Basic Maxi Dress
Victoria's Secret Maxi Tank Dress
2. Wrapping, Stacking Bracelets
Free People friendship bracelets
Planet Blue Mellow Yellow
Skeleton Key To my Heart Leather Bracelet by IronSquaw
3. Lightweight Scarves, Wraps, and Sweaters
Chan Luu Cashmere Silk Scarves
Layered Chan Luu
Love Quotes Wrap Scarf with Knotted Tassels
Victoria's Secret Crochet Cardigan Sweater
Planet Blue Summer 2011
Victoria's Secret Embellished Cover Up Sweater
4. Super Short Knit, Crochet, and Lace
Chan Luu Knit Shorts
Cream Crochet Shorts
Lace Pink Label Shorts
5. YELLOW
Victoria's Secret Printed Drop Waist Smocked Dress in Yellow
marc by marc jaobs yellow tote
Yellow Pumps
Wishing You A BOHO Summer XOXO